Get going with 14 days of unlimited Yoga, Hot Yoga, Kickboxing, Strength Training, HIIT, Spin and MORE!! No commitment or obligation.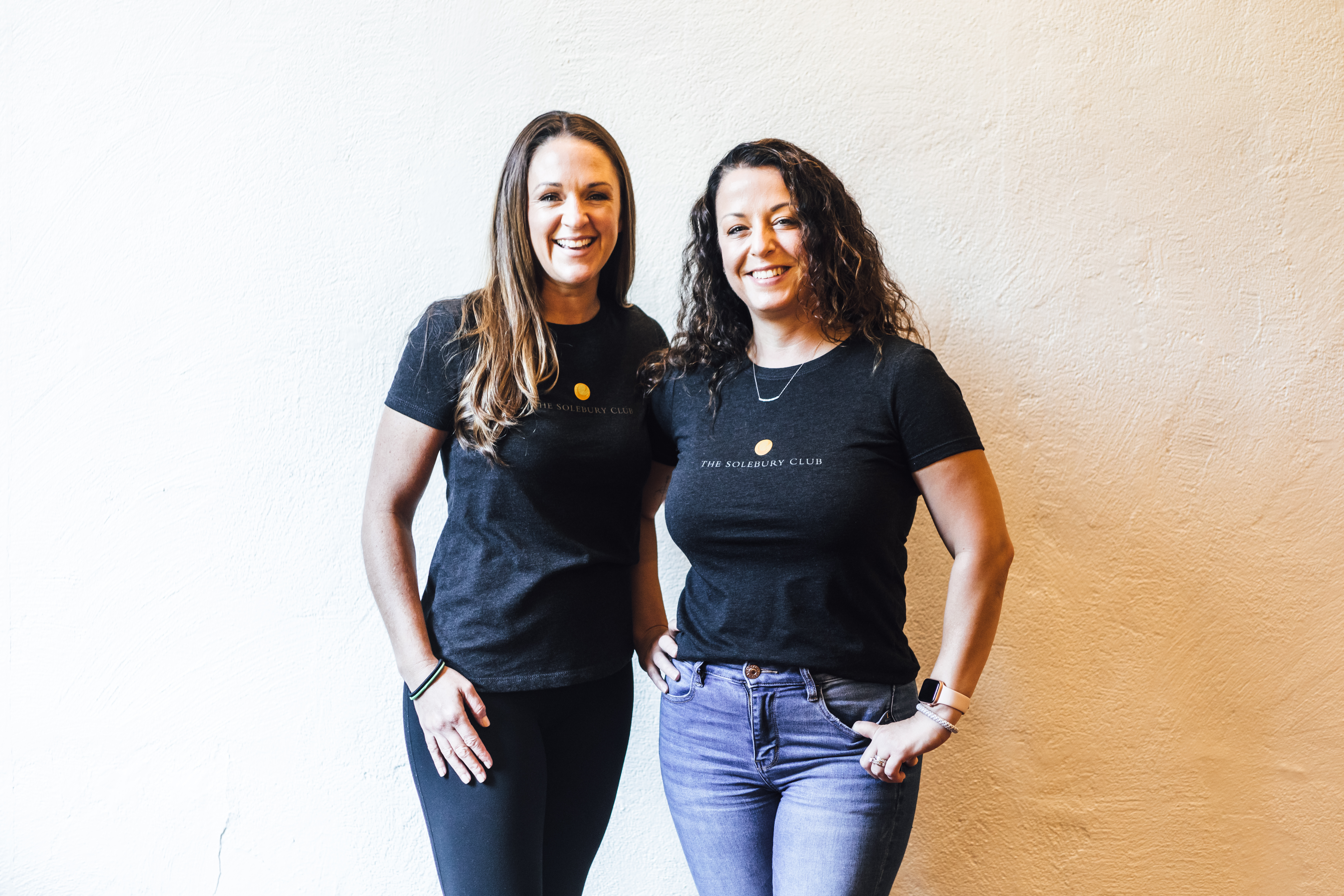 Thank you for taking the time to allow us to introduce ourselves.  Our names are Cara Catalano(left) and Liz Beighley(right), with our husbands Chris Catalano and Rob Beighley, we are the proud new owners of The Solebury Club!  What a year it has been! Thank you to our loyal members who have stuck with us through our first year and WELCOME to our new members! We are so excited and honored to be part of your health and wellness journey and pledge to continue to bring you the highest quality experience whether in person or online.
We look forward to seeing you all at The Solebury Club!
The Solebury Club staff has a reputation for being friendly, inspiring and eager to help you achieve your goals in a clean and refreshing environment. Since 2005 we have kept the members experience in mind.  
Our gym floor is located far away from the yoga studios, individual rooms for group fitness and spinning that offer a wide range of options, a centrally located cafe for catching up with friends, huge showers, an outdoor workout area, just to name a few. Oh, and we have a full time cleaning staff.
Our staff is part of what makes The Solebury Club such a great place to exercise. From organizing group exercise classes, yoga, karate, to working with you in personal training sessions, and behind the scenes, these are the people who get it done.
"I have worked out in health clubs all over the world. This is by far my favorite out of all of them!!"
"After 3 months I am enjoying the club. I am glad I made the move from Highpoint. I find all of the employees pleasant and accommodating, the facilities are great, and even ownership seems to enjoy their work!"
"I have been a member since 2007. From day one, I was greeted by my first name. The staff at The Solebury Club makes the extra effort to know their members and meet their needs."
GYM HOURS:
Monday – Thursday: 4:30am – 9:00pm
Friday: 4:30am – 8:00pm
SAT & SUN: 7:00am – 5:00pm
Please contact us to reserve your gym time or for information to schedule online
HOLIDAY HOURS:
Thanksgiving Eve: 4:30am-5:00pm
Thanksgiving Day: 8:00am–12:00pm
Black Friday: 8:00am-2:00pm
Christmas Eve: 8:00am–2:00pm
Christmas Day:  CLOSED
December 26th: 7:00am–5:00pm
New Year's Eve: 8:00am–5:00pm
New Year's Day:  10:00am-2:00pm
Easter: 7:00am-1:00pm
Memorial Day & Labor Day Weekends:
Saturday: 7:00am–2:00pm
Sunday:   7:00am–2:00pm
Monday:  CLOSED
Mother's Day:  8:00am–12:00pm
Independence Day:
Monday: 7:00am–2:00pm
July 4th: CLOSED
KID'S ROOM HOURS:

MON–THU: CLOSED
FRI: CLOSED
SAT: CLOSED
SUN: CLOSED